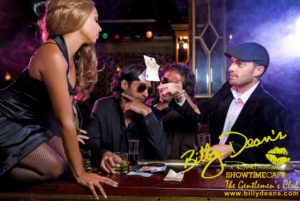 Gentlemen's Club or Gentleman's Club is the preferred term the club would choose to be searched when the public types in on the World Wide Web to find us when searching from a cellphone, tablet or computer. No matter how much the club advertises unfortunately management can not change the perception of what has been ingrained in the public's perception as to what we have been known as for years.
Gentleman's club has been used in conjunction with our company logo for 20 years. It is unfortunate but not up to us the terms the public uses to locate us. A disclaimer is located on the landing page of www.billydeans.com which reads as follows "Due to local municipality regulations our "dancers" appear on our stage in their costumes, which are g-string and pasties and do not disrobe. We use the term "stripper or strippers" on this website for search optimization purposes only. For those who are not familiar with search optimization, (SEO) it is a science that considers how search engines work, what people search for, the actual search terms or keywords typed into search engines and which search engines are preferred by their targeted audience. This in fact will attract anyone looking for a club with girls dancing so they may locate us on the World Wide Web."
Best Strip Club on Long Island is the number one group term and Best Long Island Bachelor Party the second highest ranking in which people are directed to our website. Through Google the search optimization company can track how guests find us.
If folks keep finding us…is all that really matters to our ladies!
Looking forward to seeing you at Billy Deans Showtime Café, Bellmore, Long Island, New York.