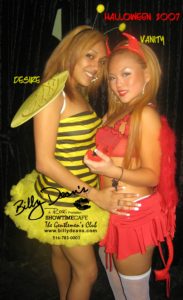 During the month of October, in honor of Throwback Thursdays the club will be featuring some of our past entertainers for Halloween. Many girls have graced the stages of Billy Deans Showtime Cafe. Desire and Vanity were with us for many years and began their careers as 1st time wrestlers/dancers at the age of 18. They were always full of fun and life! We lost track of Vanity however Desire has a beautiful daughter and went on to a career in nursing.
For the haters, little do you know the owners have kept in touch with many of the girls and guys that worked for the company. So many of the employees have accomplished great things with there lives. We are happy for all the young men and women that have used the opportunity of dancing and entertaining to obtain their goals.
Make memories with us. Join us for a fun night out with your friends, "Guys Night Out" "Girls Night Out" Birthday and Bachelor Parties are our specialties.
Billy Deans Showtime Cafe is located at 1538 Newbridge Road, North Bellmore, Long Island, New York